Donald Borza
Don Borza was in the final episode of Tour of Duty, and starred as 'Griff',
he has kindly shared a few of memories of his brief time on the show.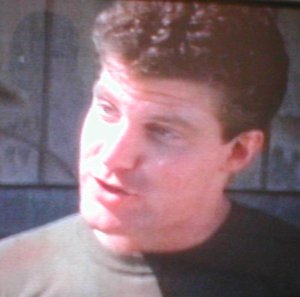 Hi Craig , You are correct in thinking I was 'Griff' the dope smoking guy in the motor pool.
The part was actually billed as a co-starring role for that episode.
I auditioned with about 5 other actors and was fortunate they liked my "wise guy" style of
interpretation of the character.
According to my agent, this was a role that was going to be the "New" guy in the motor pool. And I was being told it would be a possible 3-4 episode part for the next season.
It was my character's "introduction to LT" and he and I would have a few more run-ins the next season.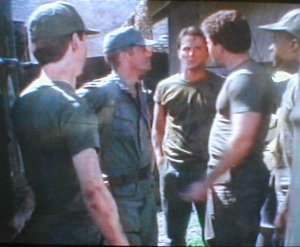 As far as working with the guys, Steve Caffery is the only regular I had the pleasure to work with. He and I hit it off right away. A very professional actor and a class act as well. He is also very good at "give and take". For example he quickly picked up on my "wise guy" style delivery and delivers it back at me in his final line.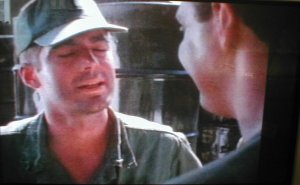 I used to keep in touch with him, but have lost contact over the past few years.
I also have very fond memories of that role because of the fact that I had only been in L.A. a short time and landed such a good job, with the recurring role talk as well.
I remember getting my script messenger to me and preparing as soon as I opened the pages.
The "wise guy" delivery style came as an idea from my good friend and fellow actor, Larry Wilcox, who helped me rehearse and work on the character.

Regarding location notes, your websites visitors will realize that "we were not in Hawaii anymore, Toto". That season and I believe the 2nd season as well were filmed in L.A.
Actually we filmed in an area off the 118 freeway known as Indian Dunes.
They would have us park our car up at a base camp near the freeway and a shuttle would take us a 1/2 mile or so into the "Jungle" set that was created.
Someone told me it was in the same approximate area that they shot M.A.S.H., I think China Beach wasn't to far from us either.

I do remember a funny moment though when the show actually aired.
I was in Florida visiting a friend, and never really new when the actual airing was going to be, there was a re-run or two thrown in which put the timing off.
Anyways, I was at a restaurant picking up some take-out and they were playing Tour of Duty on a big screen TV at the bar. So I walked over and had a look while waiting for my order, standing next to a guy having a beer, who seemed to be watching intensely.
After only a minute or so, my scene was beginning when LT pulls up in the jeep, and I made a kind of "Ha" sound.
This caused the guy to take a quick glance at me, "like what's your problem".
My scene played out and just as it was over he looked back at me as I was grabbing my food order, with a puzzled look on his face.
I looked at him, smiled and walked away. I could feel his glance follow me out the door as I left.

In the, "What are they doing now" segment of my life,
I have been focusing more behind the scenes. Writing, Directing and Producing as well as acting in my first feature, "The Thundering 8th", a WWII action-love story about an ace fighter pilot reflecting back on his "Tour of Duty", it also stars, Larry Wilcox, June Lockhart, Bo Hopkins,
Jan Michael Vincent, Donny Most, and William Windom.

More details of the film here




The film has played film festivals and has yet to have a released date scheduled.
Besides the occasional acting job,
I also focus on Distribution with my company Popcorn Pictures,
www.popcornpicturespresents.com and have a few more film and TV productions in development.

Well, it was a great time remembering some fond memories for fans of the show.

Best Regards,
Don Borza

HOME

CopyrightÓ2005 Craig Blackmore & Don Borza. All rights Reserved.