BRUCE GRAY pg2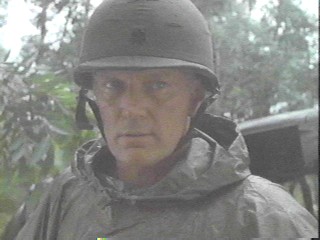 Bruce Gray as Lt.Colonel in the episode "The Hill"

On 26 November 2000 , I recieved some e-mails from Bruce Gray about his time on the series.
Here are parts of those e-mails UPDATED 07/01/01
TO : CRAIG
RE: TOUR OF DUTY
Col Dalby was totally created by the writers to give the lads in the army some problems.
He was only supposed to be in one episode but kept recurring.
The best part of the job was that it was shot in Hawaii.
They flew us in first class and we stayed at a great hotel on Waikiki Beach.
I even got to Maui one weekend.

Because I wasn't a regular and because I was the outsider in the script I didn't "hang out" with the cast. But Stephen Caffrey was a friend of a friend and we had dinner a couple of times

I can't say that playing the colonel was a favorite part.
Those hard nosed bastards are not much fun really, unless the writers choose to explore the character, which in this case they didn't.
Frankly I had forgotten about the series until it started turning up on the History Channel as a depiction of the Vietnam War!
Q/.Whats next in the pipeline for actor/director Mr Bruce Gray ?

I have been busy doing some Canadian TV and a US movie produced by Tom Hanks
called MY BIG FAT GREEK WEDDING. It may get to England.
Hope this answers some questions for you.
Happy Holidays
Bruce Gray
UPDATE 07/01/01
I recieved another e-mail from Mr Gray on 04 January 2001 after he viewed these pages and just wanted to clear a few things up and let me know what he has been filmimg recently
"......Craig
......I don't know what I meant by the Tom Hank's project being shown in England.
Not so. IT is being edited now for US theatrical release. I have also completed recently two MOW's GLIMPSE OF HELL as Robert Sean Leonard's dad, and THE LAST DEBATE as the US president. Plus an episode of OUTER LIMITS shot in Vancouver for the US market........
Bruce Gray

Bruce Gray as Lt. Colonel Dalby talking to Captain Larry Heath (Kristoffer Tabori)
from the episode "Under Siege"
Please visit Bruce Grays Official site http://www.brucegray.net