JACK WITTMAN's
Behind the scenes Tour of Duty television show photographs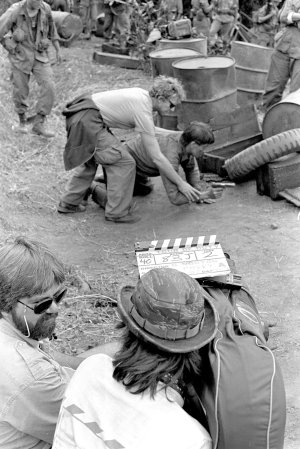 A little about Jack Wittman.

At the time Tour of Duty was being filmed at Schofield Barracks Jack Wittman was a spec 4 working as a journalist for the 25th Infantry Division newspaper , The Tropic Lighting News. He has kindly allowed HUM90 to use his photographs on the site and has shared some memories of the time.

| | | |
| --- | --- | --- |
| | Terence Knox as Sgt Zeke Anderson | Miguel Nunez as Marcus Taylor |


"When I was in the Army I was stationed at Schofield Barracks, Hawaii, as a journalist for the 25th Infantry Division newspaper, the Tropic Lightning News. The Army allowed Tour of Duty to be filmed on the post and also allowed some of our soldiers and Huey helicopters to be used in the production. I went out to the filming site a few times to get photos and write a story about the division's participation in the show."


Stan Foster 2nd right (Marvin Johnson) and other actors
taking a food break
Here's what I recall about the filming of the Tour of Duty pilot episode.

Filming at Schofield Barracks took place over a three-week period in March 1987, mostly in the East Range training area. Some scenes were also shot in buildings on the main post, but I didnít get to see those...
....I went out to the filming location a few times and just hung around taking pictures and interviewing soldiers who were serving as extras. I didnít get to talk to many of the cast and crew because they were usually very busy. It was fascinating to watch them work. They were very concerned with authenticity and put a lot of emphasis on getting the details right.
| | | | |
| --- | --- | --- | --- |
| Hair cut | Setting the scene | Stephen Caffrey as Lt Goldman | Searching for the right size |
There was quite a bit of Army participation in the production. About 30 soldiers from the 45th Support Group worked as extras, flight crews from the 145th Assault Helicopter Company flew the Hueys, and the 68th Medical Detachment provided a medevac helicopter. Master Sgt. James Stephens, a Vietnam vet, was the technical advisor.
Ironically, I didn't get to see the show when it aired because I didn't have a TV in my barracks room.

Best,
Jack
All photographs on this page are used with permission from the Photographer.
HUM90.com would like to thank Jack on his kindness on allowing us to use these photographs.

Tour Of Duty how its meant to be
with the Original Music


Tour Of Duty how its meant to be
with the Original Music


Tour Of Duty how its meant to be
with the Original Music