The Music of Tour Of Duty
The original soundtrack to the show was never released and what has been released around the world is a mixture of songs from the show and songs from the era , here you can find out about the various releases.

Around the world there have been different releases of Tour Of Duty LP's , CD's and 7inch singles.
The following section shows some that I have been able to track down.

Rather than being original 'soundtracks' from the show they are collections of songs from the time/era depicted in the show, released under the banner of Tour Of Duty.

You can also find some tracks from the original series on the CD's/LP's & cassettes mixed in with other classic tracks.
In The Netherlands (1991)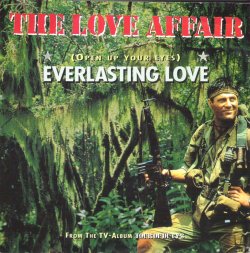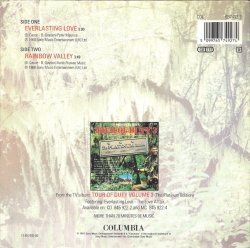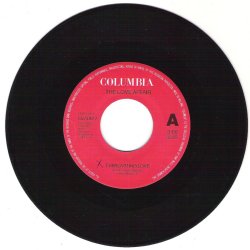 This 7 inch single was also released in the Netherlands to help sales of the TV album, Tour Of Duty 3 (The Platinum Edition), The B side was Rainbow Valley.
(Thanks to Kevin for the info).

From Germany (release date unsure)
A Steppenwolf 4 track CD - No.9031 72259-2 LO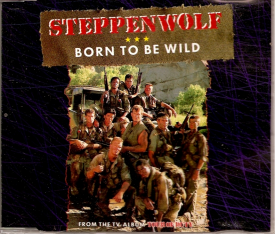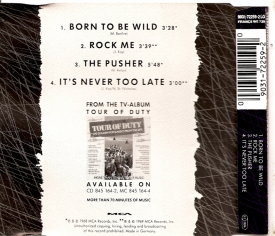 The Lp's
The Netherlands (Dutch) Tour of Duty CD Collection


The Australian Tour of Duty CD & LP Collection


Other Stuff - The CD's and 7" Singles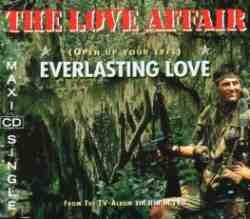 AUSTRIA (1991) - Columbia 657492-2
This is a Tour Of Duty related release from Austria ,
featuring tracks from the band The Love Affair
It is a 4 track CD single with the songs "Everlasting Love", "Rainbow Valley", "A Day Without Your Love" and "One Road".
The cover states that the songs are culled from the TV album "Tour Of Duty 3".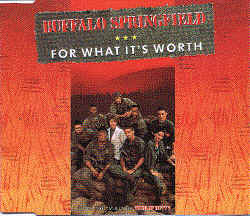 GERMANY ( 1991 ?) ATCO - 7567 86034-2
Buffalo Springfield - For What Its Worth
A "Tour of duty" 3-track Maxi CD Single featuring the tracks For What its worth, Expecting to fly & Broken Arrow.
The cover states that the songs are culled from the TV album "Tour Of Duty 2".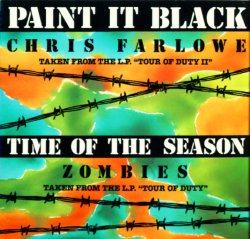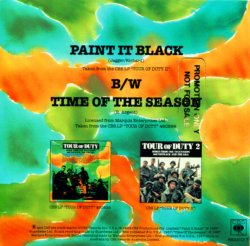 In Australia
There was a limited promotional issue of the 7 Zombies-Time of the season / Chris Farlowe - Paint it Black , it was a double A sided 7 inch single to help publicise the releases of the Tour Of Duty albums 1 & 2.
CBS 652853 7 -M.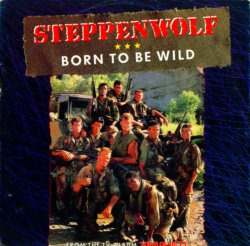 In the Netherlands 1990
There was a 7 inch single release of Steppenwolf's Born to be Wild , this was to help publicise the Dutch release of Tour of Duty albums.
Also In the Netherlands, (1990)
Paint it Black by the Rolling Stones, was re-released due to the success of Tour Of Duty and reached number one in the Dutch music charts.

In the UK (1990) the song was also re-released but failed to make an impact in the chart.