A 'Tour' of emotions on the isle of Hawaii
TELEVISION
NEWS. PROGRAMMING AND PERSONALITIES
INSIDE TV / BY MATT ROUSH
War is hell for the cast regulars of Tour of Duty, "We've killed two and more are coming, " says executive producer Zev Braun of CBS' ground-breaking Vietnam combat drama. Tonight's show (8 EST/PST), says Braun, '.is a culmination. . . . We've been building up to it throughout the season. We've gotten away from just doing extravagant battle scenes, and we're more into the characters. You see the guts of these guys - not literally, but we're getting into where they live. This episode brought me to tears three times"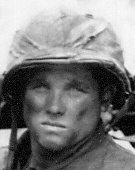 The episode is the first set outside Vietnam; Hawaii, where the show is filmed, was the obvious choice, Following the recent deaths of the troop's medic (Steve Akahoshi) and captain (Kevin Conroy) . the soldiers go on R & R. during which Percell (Tony Becker) is called to Hawaii - accompanied by Taylor (Miguel Nunez) and Ruiz (Ramon Franco ) - to see his ailing father, a Korea vet There, the grunts meet war protesters and visit a hospital with severely wounded soldiers.
DANNY PERCELL,
PLAYED BY TONY BECKER
"We've dealt with fragging ( soldiers killing their own), racial violence and drugs. Tonight , we deal with suicide and other issues" says Braun. Tour's biggest battle , of course has been in the ratings trenches and moves mid-March from a killer spot opposite 'The Cosby Show' to one opposite 'The Golden girls'. But Braun says Tour has wide corporate and affiliate support at CBS. If back next season, Tour will confront major events of 1968, including the Tet Offensive.
MORE WAR: Tour is a pioneer that has spawned new twists on Vietnam. First up: ABCs China Beach, a woman's eye-view series set at a Da Nang R & R facility, to air later this season; and Shooter , a two-hour NBC movie pilot to begin shooting Sunday in Thailand. With Shooter, a darkly - comic tale of combat photographers, "we're striving to get , what M.A.S.H got, both in terms of the movie and TV series, "says Mitch Semel, president of UBU Production.
Unusual for two-hour pilots, the resulting series would be a half-hour comedy. The show's co-creator is David Kennerly , a combat shooter (later, White House photographer ) ,who did the production stills for Tour of Duty and Wrote a book titled Shooter in 1979.
Semel isn't sure where Shooter would film if its picked up, but admits, "If we were the first out of the gate we I wouldn't have a chance in hell. All the others cleared the way for us. " Shooter probably wouldn't have combat scene every week and will aspire for M-A-S-H's blend of laughs and tragedy.
Says Tour's Braun about the new projects: "They're not just ripping us off, which I appreciate."