!—End Cookie Consent plugin-->
Stan Foster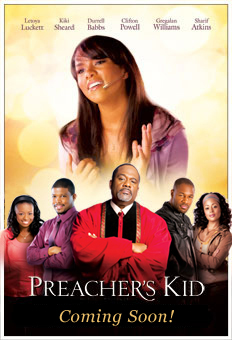 Written, Produced & Directed By Stan Foster
Tired of being a Preacher's daughter and longing to experience more of life, 20-something ANGIE KING strikes out on her own for the very first time and joins a traveling gospel show. In this modern-day rendition of the fable of The Prodigal Son, she soon discovers life on the road is tough but fears going home with nothing to show for herself, or worse, to a father who no longer loves her...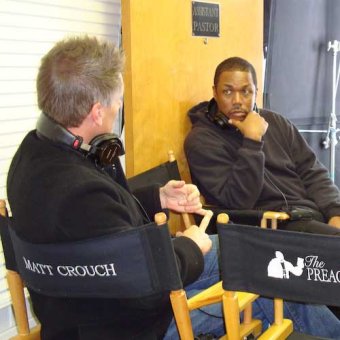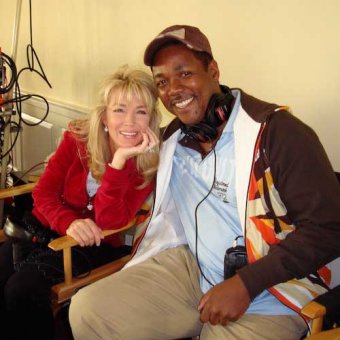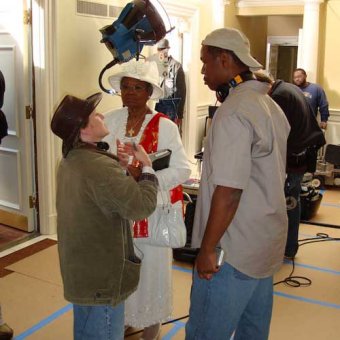 Stan Foster on the set of his new film Preacher's Kid
All images used with permission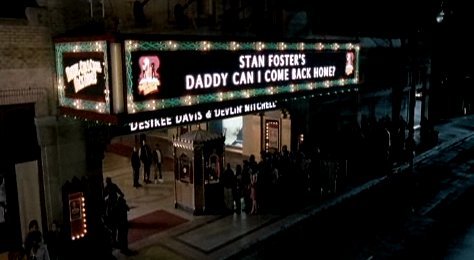 Stan manages to get his name up in lights in the film
All images used with permission
CLICK HERE TO CHECK OUT THE MOVIE
******
2004
Stan wrote the screen play - Woman Thou Art Loosed , which is an adaptation of Bishop T.D. Jakes' self-help novel, chronicling a woman's struggle to come to terms with her legacy of abuse, addiction and poverty.
It stars among others Kimberly Elise, Loretta Devine, Debbi Morgan, Michael Boatman, Clifton Powell, Idalis DeLeon, Sean Blakemore, Ricky Harris.
Clifton Powell starred in Tour Of Duty ,as Luther Fraction in the episode Payback.
September 2002
Shooting of Stan's film , entitled 'Hangmans Curse' which he co-wrote has now been completed.
It is based on the novel by the author frank E. Peretti. It received a limited release in cinemas and is now available to buy.
http://www.hangmanscursethemovie.com
March 2002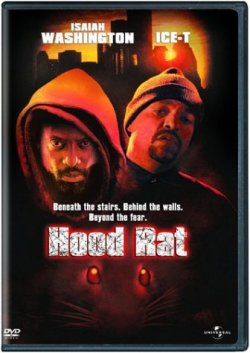 Stan Foster's film 'Tara'
in which Miguel Nunez features in, is now available to buy.
It was re-titled, "Hood Rat" prior to its release.

Here are some details about the film :
Director: Leslie Small
Producer/screenwriter: Stan Foster
Cinematographer: Keith L. Smith
Editor: Edward Abroma
Production designer/art director: Warren Alan Young
First assistant director: Robert Ballentine
Cast: Ice-T, Isaiah Washington, Tami Anderson, Thomas Merdis, Guy Torry, Tara Tovarek
A Sci-fi thriller: A group of townspeople must fight for their lives when a horde of rats invade their community.
Status: available on video & DVD now.



**********************************************

********************************
The Stan Foster Interview
The following interview took place on 27/08/2001

Q/. Can you tell me a little about yourself, are you married now ?
Do you have any children ?

No children as of yet.
I'm still single and available... Too bad that not enough women watched the show.

Q/. Aside from your great acting skills,
How did you get the part in TOD, was it through casting, or had someone seen your previous work ?

The audition process for me was long, stressful and arduous. It took about five separate auditions before I finally landed the role. During the fourth call back at the studio Zev Braun (Exec Producer) pulled me aside and gave me his vote of confidence. It was just what I needed.
For my fifth audition which was held at CBS, I was given a new scene to read at the very last minute which included an emotional breakdown. As I finished wiping the tears away I heard a thunderous applause from Network executives as the scene came to a close.
I knew that I had the part right then.

Q/. How did you physically train for the series ?,
I have heard that you and the other guys were looked after by a Sgt.Major who made you run about the hills to get you fit, is this true ?

As I recall the training was more technical than physical.
The best part of it was the bonding process with the rest of the guys.

Q/.How did you personally prepare yourself for the role of Johnson?

I talked to a lot of Vets and spent a whole lot time in the library.
There was no Internet available then to rely on for research.

Q/. Did you know that Steve Duncan based Johnson around himself ?,
If yes did it worry you , if no was it a shock when he told you ?

Yes, it was a big shock. I found out after the show was over. It's a good thing too. It probably would have made me more nervous than I already was.
Steve is one of the true class acts in this business and a talented writer as well.

Q/. Were you given a background brief of Johnson , if so do you remember any of it ?

All that I can recall was reading something that described him as the "strong silent type... When he speaks, it counts."

Q/. Can you describe what the first few days were like at the start of filming, how did you find the heat, & wearing regulation army fatigues, carrying all the equipment ?

The first few days were almost surreal.
At times you could easily forget that it was just a TV show. I'd heard so many of the stories and done so much of my own research that once the fatigues were on, I was totally in character. That made the heat, fatigues, and equipment just part of the experience.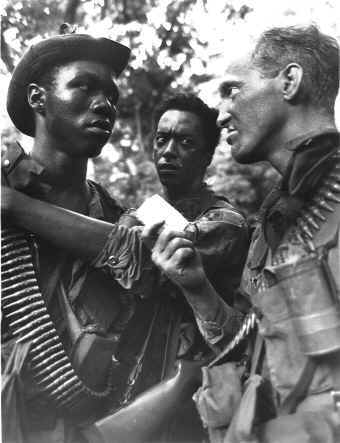 Q/. Do you have a favourite episode, Or maybe a scene, that you could tell me about ?

My favourite episode was "Burn Baby Burn" (Written by Steve Duncan) because it dealt with the rarely talked about racial divide that was often prevalent. In the episode I was accused of murdering a white racist soldier (played wonderfully by Mark Ralston - from Shawshank Redemption).
My favourite scene was also from that episode. Right before the cameras rolled to shoot a confrontation between the black & white troops, Ving Rhames (Pulp Fiction) asked that all of the white extras and crew members leave our tent.
It wasn't a racist thing, he just wanted us, as a group of black men recall as a unit all of the racism that our predecessors had to endure. Perhaps then we might be able to truly appreciate what men like Steve had to endure.
That day Ving taught me a lot about acting and even more about how fortunate I was.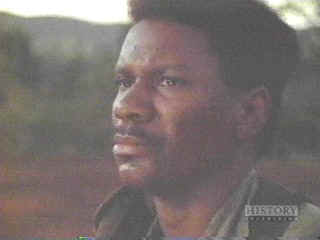 Q/.Did you speak to veterans to get an understanding about the war before you started filming,
what was that like ?

Yes, I attended a good number of Vietnam Veteran Conventions held regularly around the country. I got quite a lot of advice. Sometimes it was a bit overwhelming because I wanted so badly to get it right. If I achieved that, it's all because of them.

Q/. How does it feel to you , now that Tour Of Duty is still being shown and has gained a whole new generation of fans?

When I get fan mail now it takes my breath away.
Only now do I realize how blessed I am to have been part of such a groundbreaking show.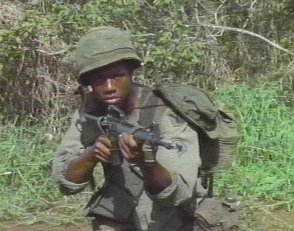 Q/. How come Johnson ended up on ' point ' most ?

He was written as the point man. I relished that and wore it as a badge of honour. I only studied point men in my research and would often be disappointed if the director placed someone else in that spot.



Q/. Did you know at the before the start of filming the 3rd season that Johnson was going to be going home ?,
How did you feel about this?,
As it would allow you to add to the depth of Johnson and his experience.

Yes, I knew in advance. And what an advantage to have as an actor. It was very cool because I got the chance to allow my character to grow a great deal over the course of the season. I believe that some of my best work was done in year three as a result of that.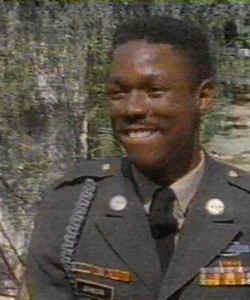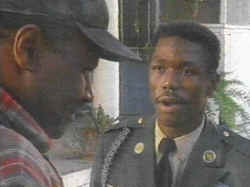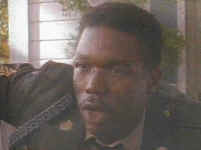 Q/. How did you research this part of Johnson's Tour Of Duty experience?

I had quite a few relatives that went to Vietnam and made it back home.
I experienced first hand how they related to family and friends when they returned.

Q/. How big a shock to you was it when the series was dropped ?,

It really wasn't that surprising.
The ratings were never great but we had a very loyal following. Apart from that, we were up against some stiff competition every season. Cosby, Rosanne , and The Golden Girls.

Q/. From what I know about the 4th season of 'Tour' ,
Johnson would have played a large role in it ?, had anything been discussed with you about his future role?

Kim LeMasters who was head of the Network at the time told me that he looked forward to showing me periodically in my adjustment and transition back home.
It would have been great.

Q/. Do you remember any jokes that you played on other cast members or they played on you ?

Yes indeed... Terence Knox and I had an on going prank between us with our chairs.
Each actor has little fatigue colored fold up chairs with our names on them for when we had a break. Well, Terence and I took pleasure in hiding one another's chairs. One day right before camera rolled, Terence hands me an undeveloped Polaroid. As it develops right before my eyes, I see that it's a chair hung high up in a tree. MY chair. As I look around to find which tree it's in, I hear the director say "action!" Needless to say, I was a bit distracted during that take.

Q/. The reunion question --what's your view on it ?
Do you think there should be one ?
Would Johnson be in it ?
Would you write it ?

I definitely believe that there should be a reunion film. If for no other reason, as a tribute to our Vets.
I would hope that Johnson would be in it, and if I'm writing it he would be.

Q/. Who do you still see from the show?

I see a few of the guys... Ramon, Eric, Miguel, both Steve's.

Q/. What have you been doing recently ?

I've written for a few TV shows... A few films and a couple of TV pilots.

Q/. I believe Miguel recently worked with you on your latest project ' Tara ' ,
Can you tell me if this is right and also tell me something about it ?

Tara (A rat - spelled backwards) is an Urban horror film much like "Willard" or "Ben". It's basically rats running amuck.
It stars Miguel, Ice T., Isaiah Washington, Guy Torrey...


Thank you Stan for taking the time and trouble to answer my questions.
Craig
Copyright 2008-2013 Craig Blackmore . All rights Reserved.