I brought the Sony DVD's where's the music ????
You can now buy Tour Of Duty with the Original Music on DVD links at the foot of the page
If your not sure which set to buy the Sony version, or the Mill Creek version both
without the music .
Or spend a little bit more and get the Fabulous Films version WITH the Original music ,
maybe someone could persuade you .
This Is what Miguel Nunez Jr. (aka Marcus Taylor from Tour Of Duty )
had to say on the matter in the Fabulous Films Tour of Duty Documentary.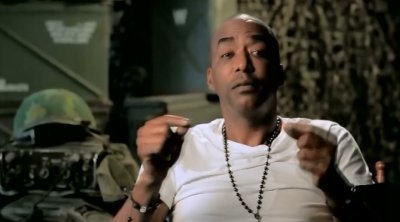 "

There's so many people that still love this show and I love this show.
And now they have the original music,
Not the stupid...I don't know if you guys can get the one we got in the

S

tates

, but we got the one we got in the

S

tates

, I saw it I was SO Happy .


"

HEY the DVD's out

"

.

......

And I stuck it in and they have no music...
They don't even have The Rolling Stones opening number on it. I was

DEVASTATED

..
..........And now

YOU

got it. And I want you, somebody to send me one,,,,


,,,,,,

let you give me my address....No I was just kidding.

"

Direct quote taken from The Fabulous Films Documentary - The making of Tour of Duty.

I Brought The SONY DVD's,


What's Happened To The Music?
Since the first days after the Sony DVDs of Tour of Duty were released there have been two questions asked on a almost daily basis on websites, forums and message-boards around the world.

Where's the original music gone?
Why did Sony replace it?

I have e-mailed various people asking for the reasons behind the decision but I have not yet had a reply, so this is just a comment about what I have found out through my own investigations.

This is in no way to be taken as an official reason given. Hopefully we will be able to get an official comment on the matter someday.
This is my best guess as to why the music was replaced on the Sony & Mill Creek DVDs releases of Tour Of Duty, based on the facts I've been able to find.

******************

I'll start with a little background,
At the time of making/filming Tour of Duty, the TV show release video market was still in its infancy and not many people in the industry had thought about the future popularity of TV shows on tape, and DVD wasn't invented.
So when the companies licensed the music for the TV shows they only paid for the broadcast rights it needed then.

Sure people would pay out to rent their favourite blockbuster films and a few would go that little bit further and purchase the tapes. You have to remember at this time where the cost of some shop brought pre-recorded videos was still $30+.
So for a full release of Tour of Duty Season One at the time would have cost more than $300, and not likely to be a big seller for the company and the profit just wouldn't be there.

Soon after this the industry realised the market was huge and so the prices dropped rapidly and the releases of TV shows began to increase and companies then started to buy the music video rights as well.

Which is probably how the released tapes of Tour Of Duty have the music intact apart from "Paint It Black'' by the Rolling Stones, which can safely be classed as a superstar track and I'm sure would have attracted a huge license fee. (the Rolling Stones charged Microsoft Ł2.3m to use Start Me Up in the launch of the Windows 95 system)

The music in the original CBS run of Tour of Duty was licensed and as Art Fein who was the music consultant on the first season of Tour told us
"In 1987-88 you'd pay about $2000 for any pop song, less for Motown"………"The one company you avoided was Columbia because they took 6 months to make a decision and came back with a price of $5000"..

So if you take the total number of songs used in the first season and add the cost up in 1987-88 we are already talking 69 tracks and the theme Paint It Black used 21 times.
So if we take the $2,000 price and do the math's we end up with the fact that the music for just the first season of tour of duty could have cost in the region of $180,000 back in 1987-88 for TV without further video costs.

The costs being spoken about now in 2006, for music fees on DVDs ranges from $1-500 - $15,000 with superstar and iconic tunes reaching $20,000 - $25,000.

As I understand it, for each subsequent syndication TV networks have to renegotiate a price for the music, the smaller the network the less budget they have, and also the timeslot they are trying to fill is a factor, because of advertising revenue.
They could then cut songs where they were able to so that they were be able to afford the rest.
This could be why on the TNT re-run in the USA, the opening theme music was not the Rolling Stones Paint It Black.

Also when the series re-ran in syndication on TNT in the USA, some of the footage and music was changed, this could have been a cost saving exercise.
War lover: In the TNT television version the scene cut is when the song "we gotta get out of this place" is playing. Not only do they cut the music they cut the entire scene probably because it just contains the usual chopper ride and the guys walking through the river and no dialogue. (Info thanks to Peter Ahal)

**********

Added March 2018
Since first writing this piece I managed to contact Randall Crissman , who was able to add a few more details about music and the TNT reruns and this could also explain in part about the subsequent tv runs & the Sony & Mill Creek DVD releases.
"As you probably know, when Tour of Duty was sold to TNT for reruns, TNT did not want to pay the licensing fees for all the famous songs that were placed throughout the series. The CBS version of the series contained GREAT songs from the 60's. Unfortunately, the producers removed these songs from the various episodes and replaced some with '60s-sounding tracks that I had written ( in the 90's) for the firstcom music library .
I am happy TNT aired my music , but will be the first to admit that nothing could truly replace those original songs

Please know that I absolutely loved the original series on CBS with the original music. This made my situation bittersweet for sure."

*************

Music right owners are willing to license their music for DVDs, who wouldn't be.
But the extra cost to the producers of the DVD, has to be counter balanced against whether the extra cost could be carried through to the final package price, which in turn will reflect in their sales figures.
With the back catalogue of old TV shows they have to choose from many producers just move on.

Another situation could be one person/company holding out for a larger amount of money.
I'll use episode 2, Notes from the Underground as my example, the original episode filmed has three songs in it,

For What its Worth – Buffalo Springfield,
Wipe Out by the Safaris
Reach out I'll Be There by the Four Tops.
Now we have three songs here simple you may think.

You only need three licenses, maybe yes maybe not, because if the song was written by the artist and a publishing company hold the rights they also have to be contacted and agree a fee, so you may need four, five or even six licenses.

Now if we leave it at just three,
if the first two agree a fee, the third one could still say that they want more money so the people trying to get the rights are up against a brick wall again if its above their budget.

************

Another factor could be that it's just too costly for a company to employ someone for to long to track down all the needed tracks licenses and so they move on to an easier TV show to release with maybe only the occasionally song through the series.

Lets add into the mix that the original parent company New World International does not exist anymore, so there may have been problems trying to locate original documents with the publisher information and clearing agreements and cue sheets identifying the songs used could be missing.

*****************

We have to face the facts that we may never get a release of Tour of Duty complete with the much-loved original music due to many reasons but lets not give up.
Who knows what the future holds?
In years to come if the sales of the currently available versions go well someone might see a release with the original music as a worthwhile business venture.

If we do the work now someday we might get a special edition release with the original score.

March 2018
Obviously we do now have the great Fabulous Films #Tour of Duty DVD set with all the original music ,
but I wanted to keep this article as it took me a long time to research and I'm rather proud of it & just realised its 12 years old. Its still relevant as the reasons to remove the music hasn't changed. We just now have the set we all wanted with the original music.

Finally let me say this

At least Columbia Tri-Star did try something,
How hard they tried we may never know but remember they could have skipped Tour Of Duty completely and just moved on to another show. At least we now have DVD's of the show.

I say this because when Tour Of Duty ended it ranked as 104th in a list of 111 prime-time programs. Hardly a huge money-spinner when you look at it.

If your not happy with the available DVD's with the alternative music, but still love the show, you can let Columbia Tri-Star know by ringing their consumer line and telling them. I'm sure they will keep a record and if enough people ring…..
Please be polite and remember that the person you speak to wasn't the one that changed the music. They are just doing their job just like you and I and may well be a fan of Tour Of Duty.
Thanks for reading this article, if you have any comments or further details/facts why not pop onto the message board.


Cheers,
Craig