A review/report on The Fabulous Films Tour Of Duty
Season Three DVD Release
Having written a review for Fabulous Films Seasons One & Two release of Tour of Duty its only logical that I should write about the Fabulous Film DVD Season Three release of Tour of Duty , because many people have already spent out money on the Sony or Mill Creek sets and so might be unwilling to buy this version. Here I'll try to let you know why you should buy it and what you get for your money.

Its not so much a review of the show, as most people visiting here already know all about the show Tour Of Duty, its more of what do you get for your money ,What's different in this set to the other DVD sets. That's Apart from the Whole of Season Three of Tour Of Duty with the ORIGINAL music soundtrack.
Firstly I'd like to say as a long time fan of the show, It's great that this show has been restored back to its original glory with a better picture quality and sound then the Sony or Mill Creek versions and MORE importantly it has the ALL original soundtrack , all the music how it was first broadcast all those years ago.


So what do you get for you money ?

You get a very detailed Booklet with an episode guide, detailing each episode.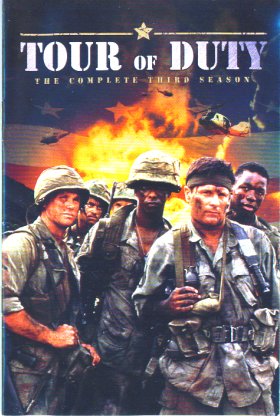 Keeping with the style of Season One & Two on the back cover of the booklet are more quotes and information,
from the start of the show.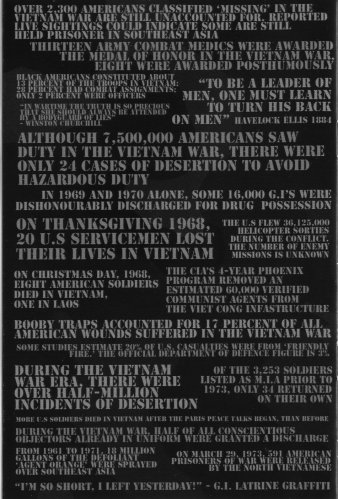 There are 31 small photos in the booklet again, like season one some colour some black & white.

Have we seen them before ,
Many fans will have seen them on the various Tour Of Duty websites but very few will have seen them all,
and never together like this before.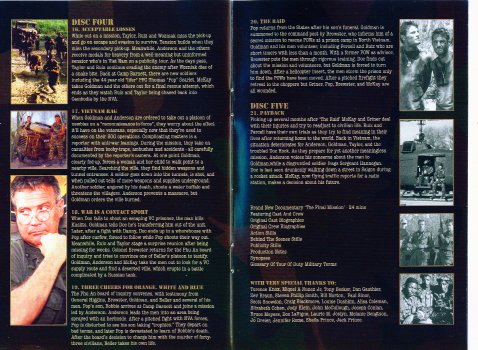 The details of each episode is also recreated on the discs, and before each episode plays you can read about the episode.




The Actual discs,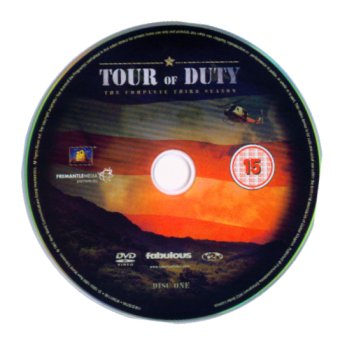 Again just like Seasons One & Two, they all the same in look , in-fact the only difference is they have Season Three on them, which is quite small but then I doubt many people would leave their Tour Of Duty discs all scattered laying about to get them mixed up ,
as you can see DISC ONE is written clearly enough so that you wont have a problem.

Sticking with the same style as the other seasons boxset, the case is strong plastic and the discs are held in place well,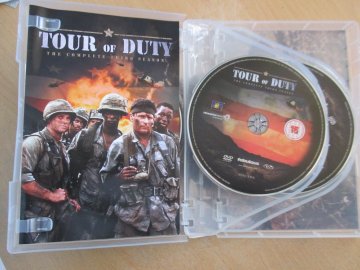 Disc 1 sits underneath/behind the Booklet on the inside cover.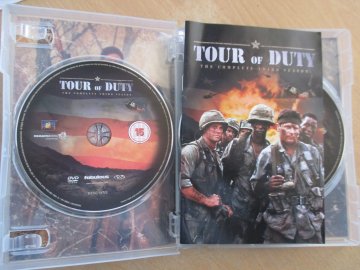 In keeping with Fabulous Films Season One & Two release of Tour Of Duty,
the picture quality of the episodes looks to be lighter than the Sony releases,
The colours seem crisper and the greens of the foliage greener.
Again the sound is crisp, and all the ORIGINAL music soundtrack is back.

What about the bonus features , these are found on Disc 5 along with the final episode Payback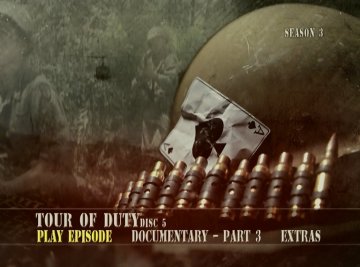 The final part of the exclusive Fabulous Films Tour of Duty Documentary
'The Final Mission'
comes in at 22 minutes long.
Another great piece in itself, and includes Dan Gauthier aka Lt Johnny McKay,
again the cast & crew reveal details not heard before, talking about the show, filming.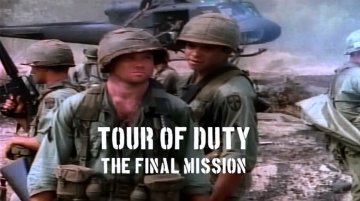 You shouldn't be disappointed but perhaps like me you might find when it finishes you wanted a little bit more,
this could just be down to being spoiled with part one of The documentary running to 55 minutes.

By now , you know I'm not going to spoil it for you and tell you all about this
because you've read part 1 & 2 about this DVD release & you should already be convinced enough to buy
this Boxset ,
With this DVD set , you get all the original music and uncut episodes & an exclusive 3 part documentary , what more could you get?

What else is there ...again like Seasons One & Two we have many screens with options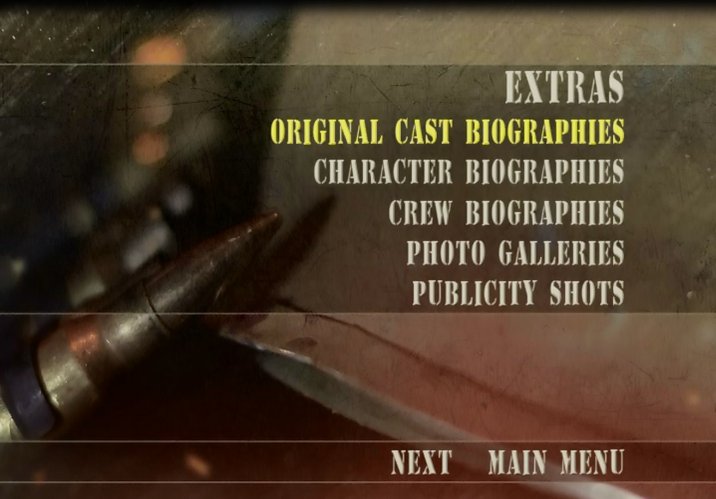 The character biographies are brilliant as to be expected and were written by none other than DC from www.tourofdutyinfo.com
Crew biographies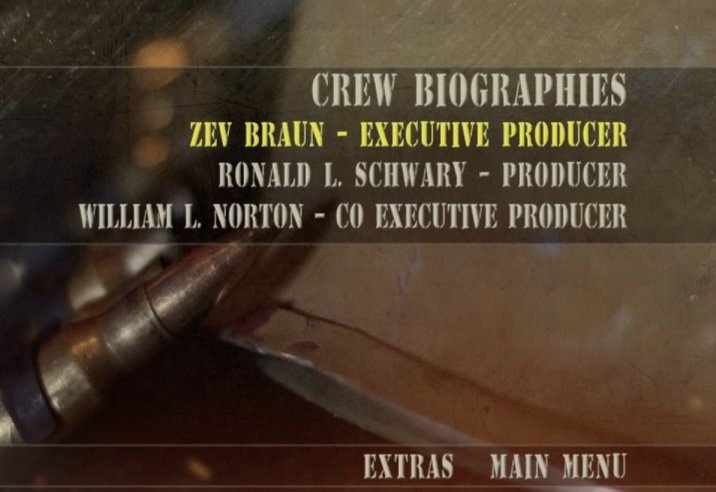 The Galleries ..is there anything new there you ask,,,YES LOADS.
Again I'm not going to give it all away here.

Colour photos , I think I counted 48
B&W photos - 12

Another Louise Dushkins behind the scenes Gallery - 68 All new photos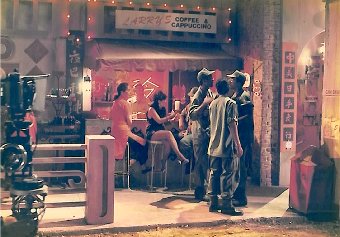 Bruce Meyers behind the scenes gallery - 150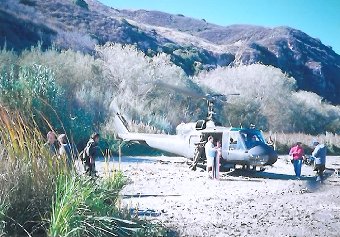 Clothing Gallery - 12
Publicity photos - 4 A selection of B&W and colour
Production Notes- 4
Glossary of terms
Shooting Schedule 1988-89
A production map of the filming area
Signed Call sheet for The Volunteer


The stills galleries are again great fantastic, rare & hard to find items are here
as again, fans as well as cast and crew of the show were involved in helping to make this great bonus disc.

I was lucky enough to be involved in helping on this dvd set.
A few of items on the DVD extras were supplied by me.
As you can see many other people & fans willingly gave their time and collections
over to try to make this the best Tour of Duty DVD set there is,
A big thank you to all at Fabulous Films Ltd the makers of this boxset.
For making this DVD Boxset , you have done another fantastic job.
Order Your DVD's Here ,

Tour Of Duty how its meant to be with the Original Music