US MILITARY MEDALS
Details below supplied by Mr Lee Russell, Chuck Maskolunas,& Colonel Paul Sinor.
This page has been created to give some background into the real life medals that the characters of the tv show Tour of Duty, could have been awarded. With the shows need to and sense of getting it right , they rightly so, followed what would and still does happen in the army and so the character in the show were awarded medals.
Some of the following medals were awarded to various characters in the tv series Tour of Duty.
Please check their individual character pages to find out which ones.

The US Armed Forces recognizes valor in combat by a series of awards. The highest is the Congressional Medal of Honor. The awards process is involved and there is a tendency to downgrade the original recommended award at each level of review. The following are the awards earned by various Tour of Duty characters during the series.
THE DISTINGUISHED SERVICE CROSS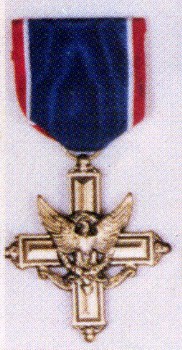 "For extraordinary heroism in connection with
military operations against an opposing armed force."
This award ranks below the Medal of Honor and is awarded only to members of the Army, in wartime.
(The Air Force, Navy and Marine Corps have their own equivalent decorations.)
THE SILVER STAR
"For gallantry in action against an opposing armed force."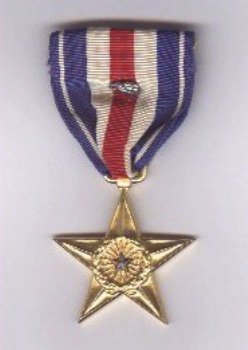 This award ranks below the Distinguished Service Cross. It was a specific award for heroism to enlisted men, and junior officers. Above this level, it just became a routine award to battalion commanders (Lieutenant-Colonels) and above at the end of their tours. It was only awarded in wartime and in a combat theatre.
THE BRONZE STAR
"For heroic or meritorious achievement of service, not involving aerial flight, in connection with operations against an opposing armed force."
The Bronze Star was awarded in two categories, with and without "V" Device. The "V for Valor" Device distinguished an award for bravery in combat, rather than one for "doing a good job" supporting a combat unit.
In either case it was only awarded in wartime and in a combat theatre.
THE PURPLE HEART
"For being wounded in action in any war or campaign under conditions which entitle the wearing of a wound chevron."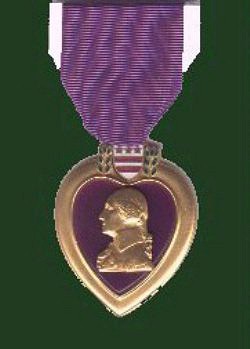 This was awarded for wounds or injuries, requiring medical treatment, sustained in the course of combat operations in wartime. Three "Hearts" (being wounded three times) would generally take you out of the field, so for some there was a temptation to put in for the medal, even for minor injuries. However, there is also a superstition connected with the award. It is called: "Don't take a Cheap 'Heart'." Anyone who did, who put in for the decoration for a minor first-aid injury, was taunting Fate. Your next award, if it wasn't for your death, would be for the loss of a limb, an eye or a permanent disability. This superstition was taken VERY seriously.

If you got wounded due to a mis-judgement on friendly fire you were still in a combat mode.

The Purple Heart. Actually awarded for combat wounds/injuries requiring medical treatment. This was pretty broadly interpreted. You could get it for breaking your ankle, tripping over a root during a firefight, etc. But it was sometimes awarded in non-hostile cases. Current US Senator Max Cleland, for example. He was a Captain in Vietnam. Getting ready to board a helicopter, for an ordinary flight, a grenade fell unnoticed from his web gear, dislodging it's safety pin. He lost both legs, one arm, and some fingers from his remaining hand in its explosion. Purple Heart. (No one's fault but his own, he admitted.)

For more detail about the history of this medal http://www.army.mil/cmh-pg/reference/PurHrt.htm
THE ARMY COMMENDATION MEDAL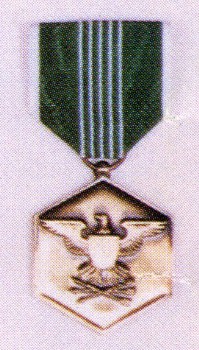 "For heroism, meritorious achievement, or meritorious service."
Again awarded in two categories, with and without "V" Device. The "V for Valor" Device distinguished an award for bravery in combat, rather than one for "doing a good job." The "attaboy" (no "V") award was a fairly common decoration, even in peacetime.
THE GOOD CONDUCT MEDAL
This was awarded to enlisted personnel for each enlistment without disciplinary problems on their records.

Combat Infantry Badge- You got this for serving in an Infantry Military Occupation Specialty, (MOS) in a hostile fire zone, in contact with the enemy for 30 days, or if you were killed or wounded while doing so, no matter how short the period was. It could only be earned by enlisted men, company grade and field officers.
This is a jealously guarded award , Only the Medal of Honor and a few others awards rank higher in the "Army Culture".
People literally died for the right to wear this badge

Combat Medics Badge - Equal in stature to the Combat Infantry Badge.


The Combat Medical Badge was conceived March 1, 1945 by the War Department. The Combat Medical Badge (CMB) could specifically be awarded to Officers and Enlisted personnel of the Medical Department who were assigned to or attached to a medical detachment of the infantry. The CMB was to recognize medical aidmen who shared the same hazards and hardships of ground combat on a daily basis with the infantry soldier.
The CMB was never intended to be awarded to all medical personnel. Due to the uniqueness of ground combat in the infantry it was intended to be awarded only to those Medics who served under direct fire with the infantry. To be awarded the Combat Medical Badge, the infantry unit to which the medical personnel were assigned or attached must have engaged the enemy in active ground combat. Medical personnel must have been personally present and under fire in order to be eligible for this award. During the Vietnam War, the requirements were so stringent that recommending officials were required to document the place (in six digit co-ordinates), the time, the type of engagement, and also the intensity of fire to which the medical personnel were exposed. The Combat Medical Badge could also be awarded to U.S. Navy and U.S. Air Force medical personnel as long as they met all the requirements of Army medical personnel.

The Air Medal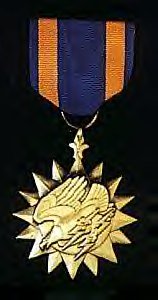 This award, is given to any person who, while serving with the armed forces of the United States in any capacity , shall have distinguished him or herself by meritorious achievement while participating in aerial flight. It is given for combat or non-combat action, and conferred in recognition of single acts of heroism or merit for operational activities against an armed enemy, or for meritorious services, or for sustained distinction in performance of duties involving regular and frequent participation in aerial flight. This decoration is the same for all branches of the Armed Forces of the United States.
The original Air Medal was a WW II vintage decoration intended to honour individual deeds of airmen. During the Vietnam War, a unforseen situation arose. Helicopter pilots and aircrews were flying combat missions continually, and even routine missions exposed them to risk. Although an attempt was made to distinguish between genuine combat missions and ordinary flights, the Air Medal became a routine award for Vietnam helicopter crews. Twenty combat missions were judged the standard, and aircrews in heavy combat might earn an Air Medal in a week. Flying ordinary missions was considered risky enough and it was also possible to earn the medal in that fashion as well, over a very much longer period. Within the helicopter community, a distinction was made, between those who had won Air Medals (multiple awards), and those who had only one. Additional awards of the Air Medal were distinguished by a metal number on the ribbon. This number became the helicopter equivalent, in stature, to the Combat Infantry Badge.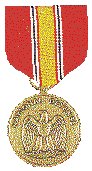 National Defence Service Medal
Awarded to all who serve in the active US Military ,for longer than 90 days during wartime.
THE VIETNAM SERVICE MEDAL
This was awarded to all US Armed Forces personnel who served for a minimum of thirty days, either in Vietnam, or in units in direct support of Vietnam operations. The actual length of tour depended on which service you were in. Army personnel served 365 days. The thirty days requirement was waived if you were killed or wounded during this period.
For each six months you served overseas in wartime, you received one Overseas Service Bar. This was a cloth device worn on the lower right sleeve of the Army Green Dress uniform, only.
VIETNAMESE DECORATIONS
THE GALLANTRY CROSS
This was both an individual and a unit award of the Republic of Vietnam. If it was an individual award, it would be awarded with a Silver or Bronze Star, and was equivalent to these medals in US Service. As a unit award, it was given with a Palm Leaf.
THE VIETNAM CAMPAIGN MEDAL
This was an award of the Republic of Vietnam for military service in the war. Their own soldiers got it, as did the troops of the United States, Korea, Australia, New Zealand, Thailand and the Philippines who served in Vietnam. It was also awarded to soldiers of the French Union who had served in Indochina between 1949-54. A metal banner device denoted the specific years of service. Later this device was changed to read "1961- "
Order Here

Tour Of Duty how its meant to be with the Original Music