Sitting Ducks
How the script for Sitting Ducks changed
As you know and understand many things you see in the movies and on tv have changed from the original concept they started out.
So was it was with the Tour of Duty episode 'Sitting Ducks'.
In the final aired version
BRAVO CO is sent to relieve another group guarding a small village which is having an important new irrigation system installed. Finally they have themselves a 'cush gig'. As they arrive, Goldman discovers that the commanding officer has just been killed out on patrol.
Below I have used parts from an article written by Diane Haithman - Times Staff Writer and published September 24th 1987 and added parts myself from what I have learned.
Tour Of Duty Producer Modifies Script For Army
In the original script for "Sitting Ducks," an episode in CBS' new Vietnam series "Tour of Duty," an Army officer snapped under pressure and committed suicide in the opening "teaser" sequence of the program. It happened off camera--but it was clear that, in the words of executive producer Zev Braun, that the officer "blew his brains out."
Now in the episode, which first aired Oct. 22nd 1987, the officer does not blow his brains out. Instead, he is killed while on patrol. This change was not the result of objections from the network--the usual source of significant alterations--but from the U.S. Army.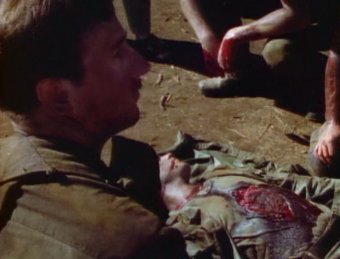 Lt. Col. Robert Thompson, the then ,chief of the Los Angeles office of the Army's public affairs department, which is based in Washington.
At the time said "I thought it was offensive, inappropriate and sensational,"
He went on to say ,

"I guess what offended me was that I didn't feel--through my experience, which included two tours in Vietnam--that our trained officers, when we put them in leadership positions and gave them responsibility for platoons of 30 men, would cop out under stress and put a gun to their heads," He continued. "The suicide was, quite frankly, not plausible to me."

And when the US Army talks, New World Television, producer of "Tour of Duty," had an obligation--of sorts--to listen, as at the time they were filming on the US Army base Schofield Barracks.
Back then in 1987, and even now on movies and tv shows there is the common practice among some television and feature film producers dealing with military themes, to seek out the advice and cooperation of the Department of Defense in producing a film or series.

Tour of Duty
With all the original Music

The Fabulous Films Limited Region Two Tour of Duty
DVD Boxset ,features a 3 part "Making of Tour of Duty"documentary where
Colonel Paul Sinor talks about the show and how he worked on the show with the actors and
writers.

It also features Steve Smith (Stephen Phillips Smith) ,Terence Knox, Tony Becker , Bill
Duncan, Joshua D Maurer, Zev Braun, Miguel Nunez Jr. , Eric
Bruskettor , Kevin Conroy, Steve Akahoshi talking in some depth about how the
Military Technical Advisors helped them with things such as
spacing's while on patrol, holding the weapons correctly , and the use of military terms amongst other things.


They talk about how the cast could draw on the experience's of the Military Advisors and also others
crew members who had actually served in Vietnam, helping to make the show more realistic.


Terence Knox speaks about how by the time they were bringing guest directors to second season of Tour of Duty ,
that even the cast members
would point out inaccuracies from what they had been taught and told.

Back in 1987 , Lt. Col. Robert Thompson also said, , that his department had been involved in the film "Hamburger Hill" and the TV
movies "A Time to Triumph"and "Angel in Green."
However the Vietnam films "Platoon" and "Full Metal Jacket" were done without U.S Army input, with Full Metal Jacket being shot entirely in England.

The department's cooperation came with strings attached, Lt. Col Robert Thompson noted. "In trade for advice, equipment and other resources (the production company reimburses the government for any costs incurred), the Department of Defence asked for final script approval. (New World Productions and Zev Braun Productions had one lead helicopter and the US Army (D.O.D) supplied three more that can be seen
in many of the flying shots during season one.)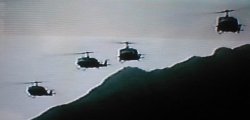 "The agreement is that we will either reach a compromise or break off our relationship," Thompson said.
Bill Norton , Zev Braun and Steve Smith (in the "Making of Tour of Duty" documentary also talk about how they were surprised how little interference they got from
the Department of Defence and how that the D.O.D. would have their own Advisors look over the scripts and sometimes notes would be passed back to the writers and they would relook at something's and perhaps tweaks would be made to various first season episode

Steve Smith

Bill Norton

Zev Braun

Despite this, the agreement was a amicable relationship, however, New World, CBS and the show's producer and writers said "Tour of Duty would never sacrifice its integrity to please the Department of Defence--even if it meant breaking off with the Department of Defence".
Which eventually,happened when the Department of Defence pulled its support , partly over the direction of the show for season two.

At the time in 1987 Steve Bello insisted , ( Tour of Duty co-producer and writer of the episode in which the suicide was planned) ,"We do not take dictation from them," "We're shooting on a military base (in Hawaii), and that gives them, fairly, a right to look at the scripts. But we're not going to let them put a gun to our heads."

Tour of Duty executive producer Zev Braun added: "It is our avowed purpose to show the reality of war. And in the reality of war,
not only do people get killed, they commit suicide. That's not a reflection on the Army, but that happens."

Then why was the scene altered?

According to Zev Braun, New World acquiesced to Thompson's request only because the scene was "not integral to the story. We will not accede (to a change) if it is a major part of the story."

"The episode involves the platoon members being assigned to what they think is an easy assignment: protecting a new irrigation installation in a rural village. The opening sequence, in which the officer formerly in charge of that project kills himself, was intended to hit home to both platoon leader Lt. Myron Goldman and the audience that this was to be no easy job."
Steve Bello said "that the decision to illustrate this by
having the officer mortally wounded rather than commit suicide was as much a
creative decision as an attempt to appease the Army
(another option he considered was having the officer die in sniper fire).
"Dramatically, if it had been a suicide, we would have had to spend two pages
of dialogue after the commercial trying to explain what happened.
It would just be talking heads," Bello said."Besides," Bello added, "
we might want to do a whole episode about suicide, and we'd have thrown the whole thing away on the teaser.


Steve Bello
Zev Braun said that "New World can produce the shows without the cooperation of the Department of Defense and would do so if
necessary. The suicide of an officer under pressure is a likely topic for a future episode," he said.
Kim LeMasters, vice president of programs at CBS, concurred with Zev Braun. "Although the agreement with the Department of Defense is with the production company, not the network, LeMasters said through a spokesman that if there were a disagreement with the Army, he
believed Zev Braun would "go ahead and produce it anyway."
The Tour of Duty Press Pack when sent out still had the original story



To read the full article written September 24, 1987 by DIANE HAITHMAN | Times Staff Writer can be found at
http://articles.latimes.com/1987-09-24/entertainment/ca-10000_1_executive-producer

NOTE : - Military Technical Advisor Mr Lee Russell before he sadly passed away, had written essays about various aspects of Tour
of Duty and this can all be found preserved at http://www.tourofdutyinfo.com where he wrote about several of the episodes , including some of the background story for this episode Sitting Ducks.
You can also find about abandoned Tour of Duty script storylines and concepts as well as a whole host of Tour of Duty in depth detailed
characters bios and a very comprehensive episode guide.